For Cecil Locke, the GMC Course of Study at Wesley Biblical Seminary is a New Level of Ministry Education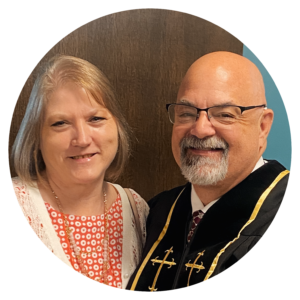 Rev. Cecil Locke, pastor of Centenary Methodist in Franklinton, LA, says he is impressed with the quality of education he is receiving through the Global Methodist Church Course of Study (COS) at Wesley Biblical Seminary.
Locke has been faithfully leading churches for 14 years, primarily in Mississippi and Louisiana. A licensed local pastor, he began COS in the UMC but took a long break as the Lord sustained him through a battle with cancer. After more classes at two different seminaries, he took another break as Centenary went through a discernment process that culminated in affiliation with GMC.  Locke was ordained a Deacon and began the GMC COS at WBS this fall.
This is not just a hoop to jump through."
From his first class, Locke says he felt a different level of both quality and intensity from his instructors. "Dr. Boyd is passionate!" he says. "We may not cover everything on the agenda, because he will get going on Inductive Bible Study, but we are always learning something important that is focused on Scripture."
For Locke, that is a contrast to his previous experience. He says the "nail in the coffin" of his studies at a previous seminary was when he was "made to feel like an idiot for believing in the inerrancy of Scripture." He says he values diverse perspectives in education and has had healthy differences of opinion with fellow students at WBS, but they all share a common foundation of a high view of the authority of the Bible.
Courses of Study are an alternative to traditional degree programs, and Locke says that in his experience, this sometimes felt like an afterthought in his previous denomination. With the GMC at WBS, however, he says he is experiencing high-quality education through excellent professors. "These are real classes with real learning," he explains, "not just a hoop to jump through."
It's remarkable to be able to learn from people all over the world."
Locke also appreciates the format of WBS. "I can drive up to campus and sit in the classroom if I want to, but I can also participate online via Zoom and not have to leave my congregation and my family." He notes that, while his previous schools offered online components, they were not as interactive or as personal as what he has experienced here. "At WBS, they know my name. I even had a personal meeting with the president when I wanted to," he adds.
The diversity of students is also something Locke values. "I have classes with people from Kenya and Canada, and all across the U.S.," he says. "It's remarkable to hear what God is doing in their ministry, and to learn from people around the world."
When Centenary voted to change their affiliation from the UMC to the GMC, there was grief and sadness, but also relief and release, Locke reports. "The first Sunday after the disaffiliation, we held a healing service, acknowledging the hurt and pain and praying for one another," he says. He continues, "A few weeks later, we held a celebration and commissioning service, reaffirming our baptismal vows, participating in the liturgy of membership vows, and rededicating ourselves to God's purpose for our church."
Just as Centenary has experienced a renewal in the Spirit, so students like Cecil are experiencing a new beginning through the Course of Study at WBS.